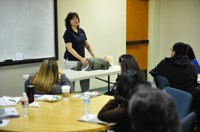 At work or home, how many times have you heard a story about a medical emergency or actually witnessed one and thought, "If that happened here and someone needed help, what would I do?"
CPR Plus Corporate Safety Training Inc. can help you answer that question.
CPR Plus CST can train you and your employees in First Aid, CPR, Automatic External Defibrillation, and Blood-borne Pathogens, teaching you what to do in the event of a medical emergency. To help ensure business continuity, we also offer Corporate Emergency Response Team training that is specifically modeled to your company's needs.
All of the Lead Instructors at CPR Plus CST are Licensed Paramedics in the state of California. Yes, the very same people who respond when you dial 911 will be the ones teaching you how to help yourself and others. We bring our years of knowledge and experience to you at your place of business. We also bring all of the necessary training devices to be sure that you receive the best, most up-to-date hands-on training with clean, safe equipment.
All of the CPR Plus CST instructors are American Heart Association Basic Life Support Instructors. Upon successful completion of an AHA Heartsaver CPR/AED Course, all participants will receive a nationally recognized AHA CPR/AED card that does not expire for two years. The First Aid and Blood-borne Pathogen training courses each carry a one-year expiration date.
Please contact us to discuss your training needs… Don't wait for something to happen! Be prepared and know what to do!